I
told you yesterday
that I'd be sharing our IKEA purchases with you. And while this post isn't about something we bought on our shopping adventure, it is about one of the main reasons I was so excited to visit the superstore.
Eventually, like when our
bathroom renovation
is done, we're going to tackle the basement TV lounge--which I don't think I've shown photos of in LaLaLand. And eventually, we want to buy a sectional. Something huge to maximize seating in our oblong room. Complete with the full "L" shape and chase. In leather. But NOT overstuffed--that's a big one for me especially. Yes, our family is tall, but we're not overstuffed and therefore our sofa shouldn't be either. Long and lean, but still super comfortable is what we're aiming for.
We've been shopping around since Christmas, scoping out our favorite online stores, google searching, even stopping at a few nearby furniture stores to get an idea of what we want. We're not in a hurry, but this is going to be our first big furniture purchase, so we want to make a good decision.
I liked Macy's Renata because of it's sleeper sectional status: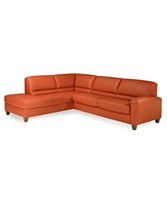 And it was leather. But we weren't in love with the size for the nearly $3,000 price.
Then I found this b-e-a-utiful sofa named Ian in my Room & Board catalogue:
It had the potential to be everything we wanted and more. Leather in the color we liked--they call it whiskey, optional chaise add-on, even an available sleeper sofa section. Could this be the one? Maybe, if it didn't cost a whopping $7,000+ when all was said and done. Yikes. I was in total denial about the price for awhile, but have been seeking God in my money management skills, praying to become a better steward of the funds He's given us. Ultimately, this is not the best way for us to spend our cash.
So, I checked out the IKEA options and found Karlstad. Here's a picture I took of him in the showroom:
It's large enough. It has the comfort the hubs is looking for. It's not overstuffed. The price is oh so right.
See that? This configuration starts at $1,098. And the cushions are replaceable, so if we need to we can swap them out in the future. It didn't have a sleeper section, but we can use the air mattress set up we have now for guests.
The only downside was that it didn't come in leather. We spoke with the nice guy in the IKEA sofa section and he told us the only piece of this modular unit that wasn't in leather in the U.S. was the corner piece. But, it is being sold in Europe, and he thought that it would likely make its way overseas within the next couple years.
Music to our ears.
So, the plan is to wait and purchase our big boy when it becomes available and our basement lounge construction is all said and done. Mike likes the black leather. I like the brown. We'll see what happens as the room comes together. And we're so excited for when that day comes!
*Update 1/12: We still haven't pulled the trigger on the sectional. And now we're thinking when we do buy one it won't be IKEA's Karlstad. Learn more here.